The Orwak 5031 is a convenient press Particularly Suitable for small companies and / or small spaces. The waste to be pressed is pressed into a plastic bag.
Voltage: 220/240 V
Engine power: 0,75 kW
Total weight: 393 kg
Installation dimensions (hxdxw): 2660x2380x1980 mm
Aperture: 500 × 500 mm
Bale dimensions (LxWxH) 500x500x700
Tank: 8.2 liters
Working pressure: 110 bar
Press force: 3 ton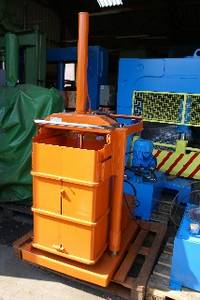 The Orwak 4532 is a convenient press particularly suitable for small companies and/or small spaces. The waste to be pressed can be pressed in a little container.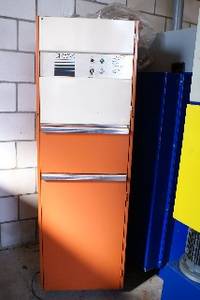 The Gansow 200 is a small, handy baler. This press compresses the material directly onto a pallet, and with a forklift or pallet, the pallet on-which the compressed material is ligated can be driven away.
Material: Paper and plastic
Filling: 900 × 1200 mm
Press pressure: 5 tons
Engine: 220 Volt / 2 Kw